Microneedling, percutaneous collagen induction therapy (PCIT), is a method of introducing controlled wounds into the skin, which stimulates the release of natural growth factors, thus creating new collagen and elastin. This process causes much less damage to the epidermis than dermal rolling or lasers and other ablative treatments, which helps to protect the new skin cell growth providing for quicker healing, higher success rates and longer lasting results.
At Looks RN, LLC, Stephanie uses a medical grade microneedling device called the Collagen P.I.N.®, which means she can treat the area from .0mm to 3mm in depth, depending on the area and the issue. Non-medical grade microneedling devices can only treat up to .5mm in depth. The Collagen P.I.N. is also one of the only FDA-accepted microneedling devices on the market.
At Looks RN, LLC, Stephanie offers microneedling to address many aesthetic issues, which may make you feel self-conscious. Examples of these issues are listed as follows: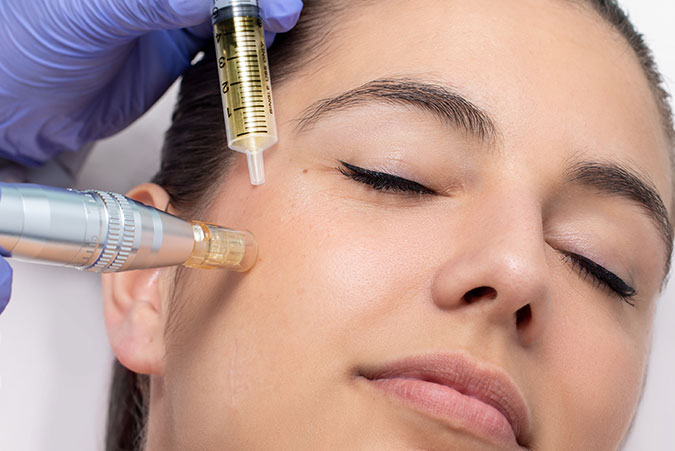 Hyperpigmentation
Lines and wrinkles
Enlarged pores
Stretch marks
Sun damage
Age spots
Acne scars
Melasma
Stephanie can perform microneedling treatments on your face, décolleté, shoulders, or another area you want to rejuvenate.
Because Stephanie places a topical numbing cream on your targeted area before starting your microneedling treatment, you shouldn't experience any discomfort. It's common to feel some pressure or mild prickling, but your overall microneedling session at Looks RN, LLC, should be comfortable.
After microneedling, you will notice some redness and feel slight skin tightening, somewhat like a sunburn. These minor side effects resolve within about 24 to 48 hours. Afterward, you'll usually notice some slight peeling as the damaged layer sheds away, exposing new rejuvenated skin.
Typically, fresh healthy skin begins to shine through around day five, but collagen regrowth can continue to improve for up to three months. For optimal microneedling results from Looks RN, LLC,  Stephanie usually recommends starting with three monthly sessions then one every six months to maintain that fresh new skin appearance.
Individual results may vary.